Welcome to the Era website, still very much 'under construction' after all these years because I'm a lazy sod! I'll try and get it finished before we're all dead.
News

Members of the Era community have noted with sadness the passing in early 2019 of Jane Barlow (formerly Chapman) and in March 2019 of Nick Hudson, one of the founding Era parents. If anyone has a digital photo of either of them I would appreciate it.
More information can be found on the Era, Education Reform Association Facebook page.

In 2017 I was contacted by John Welch, co founder and principal of Chiron College, an alternative senior secondary school in Sydney. He invited any Era people to contact him with comments, stories, or just to converse on the state of progressive education and discuss how students who experienced alternative education first hand could be valuable voices in the contemporary debate about education. He knows quite a bit about Koornang, the progressive boarding school that started up in the 1940s very close to the Era site in Springvale. More information and contact details for John can be found at the bottom of the history page of this website dealing with Koornang or you can get his details from the Era database, available by request.



Database updates
The Era database is constantly being updated with contact details, so if you are interested in contacting long lost friends from Era just ask for a copy via the menu link.


Era on Facebook
Those of you with Facebook accounts can access a lively Era Facebook community by using the search term 'Era, Education Reform Association' or the link provided.

Era memorabilia
A lot of Era memorabilia is archived in the State Library of Victoria, but a lot is also still held in private hands. Marion Pears has been kind enough to keep a large collection of magazines and other material stored at her home and is happy to let Era people view it. You can contact her via the Era Facebook page or via the contact form on this website.


Photos
If any of you have Era photos in digital format please send them through. Ideally, if you could put the year and some of the names in the title so I can create a caption, that would be great. Thanks, Guy West. (1972 -1976)
---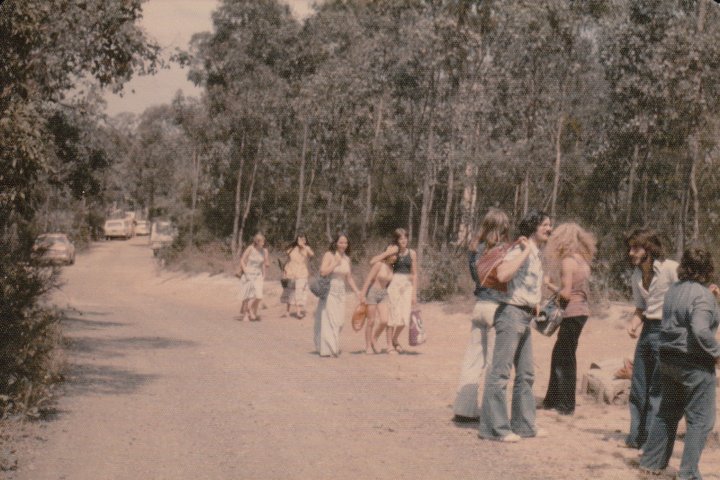 Bus stop 1975
---
Era has long since disappeared, but happily its spirit seems to linger on.
To many of us who were involved with Era, the school represents a very significant part of our lives. I suspect many of us are reluctant to concede that the philosophies which gave birth to Era are no longer relevant and I admit to being one such person.
Despite its troubled history, Era had many triumphs, some of which will be chronicled on this site (along with the disasters!) One of the lasting impressions that one has of the school, is the level of effort and sacrifice that some people were prepared to make for Era over the years. Looking back now as an adult I realise that many of these people, particularly some of the founding parents, were very courageous in pursuing their vision of a better quality of education. To a large extent this site stands as a dedication to the pioneering work of those who puts their hands into their pockets and with hard work and determination built a school out of nothing ... a very unusual school.
What was Era?
Era was an alternative or 'progressive' co-educational secondary school that opened in Melbourne in February 1971. Drawing inspiration from A.S. Neill's Summerhill experimental school in England, the most obvious difference between Era and traditional schools was the relaxed disciplinary environment in which students could wear what they want, call teachers by their first names, attend only classes of their own choosing (or none at all ) and take part in much of the school's decision making process.
Era started in temporary quarters at the 'White House', a big, white, rambling building in Warrandyte, with five teachers and eighty nine students, at that stage in forms one and two only.
In 1972, after numerous working bees to clear the blackberries and help get the new buildings ready for habitation, Era moved to its permanent site on 13 acres of virgin bushland in Donvale, very much an undeveloped outer suburb at that time.
A new form was added each year so that by 1975 it offered a full secondary education, culminating in what was then matriculation at year 12.
In 1975 the Era Primary School was established at the same location, so that parents could give their children an Era style education right from day one if they so wished.
Over the years Era was forced to overcome crises on many fronts, philosophical, interpersonal and financial. By 1986, social and economic changes in Australia had put Era's enrolment numbers under extreme pressure and years 11 and 12 were dropped from the school syllabus, with only one student doing HSC; Eve Merton.
In late March 1987, an anticipated second mortgage deal fell through and in April the school was forced to close for financial reasons, sadly ending 16 years of one of the most radical educational experiments in Australia's history.
ERA stood for Education Reform Association, a name proposed by Journalist and foundation parent, John Pinkney. The Association believed that the education system needed reform, not the students! Era did however accept unruly students who had failed to integrate into other schools, and this sometimes led to 'confusion' about the name.
---
Acknowledgements:
Archival material from 'The Era alternative' by Professor Les Lomas, Era School prospectus 1971, Volumes 1 - 29 Eratica school magazine.
Photos and posts from the Education Reform Association (Era) group on Facebook.